Det här året genomfördes Swedish Mining Innovations Programdag på Vinnovas kontor i Stockholm. 23 av våra pågående projekt presenterade sina arbeten på eventet där de berättade om projektets mål, projektplan, resultat, spridning och nästa steg.  
---
"– Vi hade en väldigt intensiv dag med pågående projekt som presenterade sina resultat så här långt, en del närmare implementering och effekt, en del tidigare i utvecklingsfasen. Det var spännande att se att våra programprojekt leder till mycket positiva effekter på den svenska gruv- och metallsektorn, såväl som för samhället i stort".
Lawrence Hooey, Teknik- och Innovationsansvarig, Swedish Mining Innovation.
---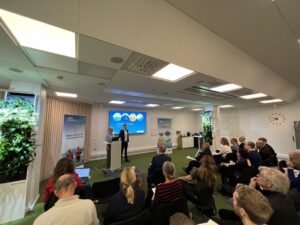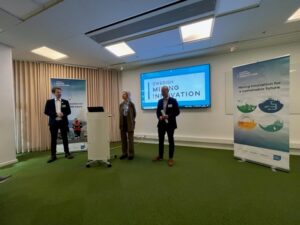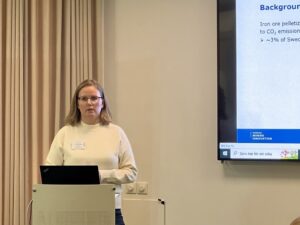 Om du inte hade möjlighet att delta på eventet, kan du ta del av projektpresentationerna här:
Strategiska projektpresentationer
Förstudiepresentationer
Fullskaliga projet & Pilot-presentationer
Automated Planning and Coordination of Autonomous Haulers in Underground Mines
Presenter: Henrik Andreasson, Örebro University.
G-Drones
Presenter: Akshit Saradagi, Luleå University of Technology.
Metals4U+: Mineral raw materials for a green and digital future
Presenter: Stefan Sädbom, Bergskraft.
Destressing strategies for mining under highly stressed conditions in the deep mines of Sweden
Presenter: Ping Zhang, Luleå University of Technology.
Safe Remote Drilling through Predictive Modeling of Hydraulic Hoses
Presenter: Yuxuan Yang, Örebro University.
Impacts of mining dust deposition on forest biodiversity and ecosystem services (MINEDUST)
Presenter: Jörgen Sjögren, Sveriges Lantbruksuniversitetet.
A road map for attractive, inclusive and safe mine work
Presenters: Jan Johansson & Erik Lund, Luleå University of Technology.
Semi-automated Dismantling System for Battery Metal Recovery and Recycling
Presenter: Eduard Marti Bigorra, Northvolt Revolt.
Fossil-free combustion in grate-kiln pelletizing plants using co-jet burner
Presenter: Sofia Larsson, Luleå University of Technology.
Reduced environmental impact and promote safety during blasting RENIS
Presenter: Nikolaos Petropoulus, Luleå University of Technology.
Transforming mining residues to valuable products Stage II
Presenter: Hesham Ahmed, Luleå University of Technology.
Sustainable and innovative exploration and exploitation of Swedish lithium ores
Presenter: Karin Högdahl, Uppsala University.
Non-toxic leaching and recovery of gold using thiosulfate based lixviant and Selmext metal separation technology
Presenter: Johan Berg, Chromafora.