Every year, Ny Teknik selects Sweden's 33 best startup companies, which they call The 33-list! On November 16 the list for 2023 was released and not only ONE but THREE of these are Swedish Mining Innovation Idea Competition winners and FOUR of them are in Swedish Mining Innovations mining cluster. The companies chosen are assessed to be innovative, have scalable business models, and have the potential to grow rapidly in the Swedish and global markets.
In 2021 RockSigma (former RS Solutions) was one of the two winners ot the Innovation Idea Competition. They won with their fully automatic and self-learning calculation system, BEMIS, that provides fast and accurate information about seismic events, predicts seismic activity based on production plans and creates tomographic images that show changes in the rock mass. Learn more about RockSigma here!
Congratulations, how does it feel?
"We are incredibly proud and honored to be on the list, it validates our work so far. This year, we have delivered products to LKAB, started our international venture with strong traction in Australia and Canada. Before the end of the year, we expect to have our first customer outside Sweden, while we are also raising capital to support our work in the important growth phase ahead.", says Jesper Martinsson, Founder and CTO of RockSigma.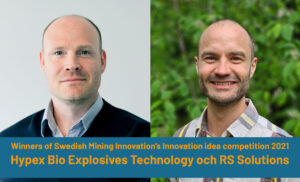 Hypex Bio Explosives Technology was the other winner the same year as RockSigma with their idea "Biodegradable and Nitrate Free Civil Explosives". Nitrate-free explosives can become a game changer in mining by replacing ammonium nitrate with hydrogen peroxide as an oxidizer. The benefits include lower emissions of nitrogen compounds, significantly reduced CO2 emissions and reduced need for ventilation of the gases produced. Learn more about Hypex Bio here!
Flasheye, founded in 2019, is a leader in lidar software solutions and won the Innovation Idea Competion in 2022 with their idea to use 3D technology to detect and prevent faults and accidents. Learn more about Flasheye here!
"It feels like an acknowledgment of the great potential we have been working for all along, to be able to monitor and automate in a way that has never been possible before due to technical and business barriers. We are proud to be featured on the same list as these talented startups", says Ida Rehnström, COO, Flasheye.
GreenIron has developed an energy efficient, hydrogen-based technique transforming a number of different metal oxides into pure metals. Learn more about GreenIron here!
---
"The fact that RockSigma, Flasheye and Hypex Bio are all included on this prestigious list and also are previous winners of the Swedish Mining Innovation Idea Competition is a great success for the companies of course, but also for the Swedish mining cluster, the work in our SME-network and for the program. We are more than happy being able to support their work in the mining sector."
Niclas Dahlström, Senior Project Manager, Swedish Mining Innovation.
---
Congratulations to RockSigma, Flasheye , Hypex Bio Explosives Technology and GreenIron! We wish you the best of luck and look forward to what the future holds.
---
QUICK FACTS
What is the 33 List?
The first list was presented 2008.
Contains 33 selected young Swedish companies with high potential to become future growth companies.
Companies selected are considered to be innovative, have scalable business models and have the potential to grow rapidly in the Swedish and global markets.
The list is an important award for the companies selected and can help increase their visibility and attractiveness to investors, customers and partners.
---