Student Tour 2023 took place on September 11-14. On the tour, we welcomed Swedish and international students from various universities across Sweden. The primary aim of organizing the tour is to showcase the opportunities within this field and to attract young professionals to the industry.
Day 1: Epiroc – A Glimpse into Innovation
The journey began at Epiroc in Örebro, the students got knowledge about projects that Epiroc is involved in and the collaborative prospects within strategic projects. They also got a glimpse into Epiroc's vision and their dedicated efforts toward realizing it.
A highlight of the day was Epiroc's work on Virtual Reality (VR) experiences. The students had the unique opportunity to explore Epiroc's VR creations, an experience they thoroughly enjoyed.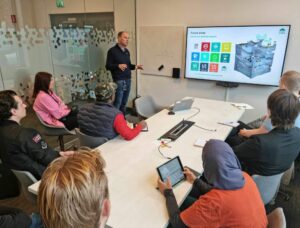 Day 2: Underground Exploration at Boliden Garpenberg
Day two commenced with a visit to Blötberget, where we had the pleasure of meeting Ronne Hamerslag, the CEO of Nordic Iron Ore AB. Mr. Hamerslag discussed the possibilities and challenges associated with reopening a mine.
The rest of the day was spent at Boliden Garpenberg. The visit included an underground exploration and a tour of the concentrator, where flotation processes are conducted. For some students, this marked their first underground experience, a memorable highlight of the Student Tour.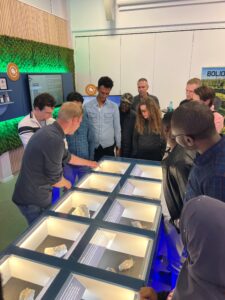 Day 3: ABB and Zinkgruvan Mining AB – A Day of Insights
The day began with a visit to ABB in Västerås, where the students got an overview of ABB's core business and more information about automation within underground mining.
Next, we went for a visit to Zinkgruvan, here Anja Hagerud the mine technical group manager passionately shared Zinkgruvan's history, core values, and geological insights. The day continued with a bus ride to explore the tailings in the surrounding area.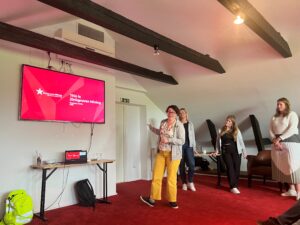 Day 4: Mining@ORU – Embracing Innovation
The final day of the Student Tour revolved around Mining@ORU at Örebro Universitet. This year's conference featured presentations showcasing the latest advancements in mining systems. It also highlighted new ventures in hydrogen and fuel cell technologies, critical metals, circularity, and secondary raw materials.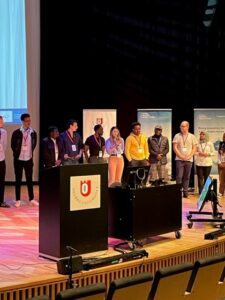 The Student Tour 2023 was a definite success, offering students a comprehensive look into the world of mining and the countless opportunities it presents. As the tour concluded, participants left with a newfound appreciation for the industry and a sense of excitement about its future.