In the end of 2022 the nine-year evaluation of our program was published. The authors Helen Andréasson and Erik Cederberg from Sweco presented a summery of the report at an online webinar event on december 16th, through Vinnova. The conclusion shows that "Swedish Mining Innovation as a programme, uses the resources both wisely and strategically."…"Since the six-year evaluation, the programme has made a constructive and positive journey when it comes to making changes".
One important result brought forward in the evaluation was our work with inclusive innovation and gender equality which we consider in our daily work. It is very important to us but it is also important for the industry and for the world at large, for that matter. We recommend everyone who is seeking funding with the program to take a digital course regarding gender equality and inclusive innovation that we commissioned and that was developed by experts at RISE. So far, it has proven to be an appreciated feature that many have found valuable when working on their application. That's why we were so happy when the evaluation concluded that we excelled extra in that area. The report says,
"Since the beginning, the program has worked comprehensively and successfully with gender equality. A clear result of the work carried out is that the project portfolio as a whole has achieved 40 percent female project managers, which is impressive considering the otherwise male-dominated sector."  and continues, " The program office was early in undergoing training in writing inclusive programme and call texts and has since then worked in various ways to promote inclusive innovation".
Lawrence Hooey, acting Programme Director during 2022 says, "We are very proud of the results of the 9-year evaluation. A big thanks to everyone in the Program Office, to all of our partners and our financiers – who together have made Swedish Mining Innovation a success".
If you are interested in reading the full report, click here! :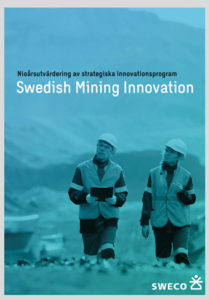 ---
About the platform  – Gender Equality in the Industry
The mining industry is an important part of society, influencing the norms that exist both within and outside of the mine's activities. By applying a norm critical and gender aware perspective, Swedish Mining Innovation and RISE, Research Institutes of Sweden aim to create conditions for a long-term sustainable industry that maintains global competitiveness by attracting skills from both women and men. We want to increase the knowledge and willingness of the projects to work more inclusively to speed up innovation, create attractive workplaces and at the same time contribute to gender equality and diversity in projects financed by the Swedish Mining Innovation.
Read about the platform here